Certificado profesional de Análisis de datos de IBM con Excel y R
Kickstart Your Data Analytics Career w/ Excel & R. Master the data analysis and visualization tools to transform data into information and insights.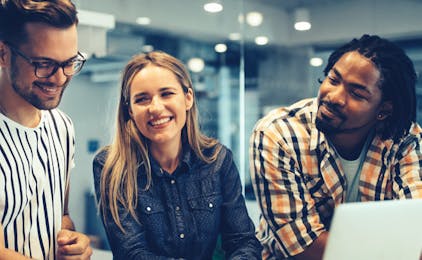 1,385 calificaciones
10,927 ya están inscritas
3 meses
Menos de 10 horas de estudio por semana
Nivel principiante
No se requiere experiencia previa.
Obtener créditos
Parte de Bachelor of Applied Arts and Sciences
Desarrolla habilidades que te prepararán para el trabajo aprendiendo de los mejores
Comienza a capacitarte en el campo de gran demanda del análisis de datos con un certificado profesional de IBM. Aprende los principios fundamentales del análisis de datos y gana experiencia en la manipulación de datos mediante el uso de la programación R y Excel y técnicas de análisis y el trabajo con una variedad de fuentes de datos.
Títulos de trabajos comunes: Analista de datos, científico de datos junior, analista de datos asociado, analista de datos junior, técnico de datos, analista de rendimiento empresarial, analista de marketing
Informe de la organización de ofertas de empleo Lightcast™ (promedio de 0 a 2 años de experiencia), Estados Unidos, 1/9/21 - 1/9/22.
$67 500
salario promedio de nivel básico¹
123 321
oportunidades de puestos de trabajo más demandados en análisis de datos¹
Informe de la organización de ofertas de empleo Lightcast™ (promedio de 0 a 2 años de experiencia), Estados Unidos, 1/9/21 - 1/9/22.
Habilidades que obtendrás
Microsoft Excel

Relational Databases (RDBMS)

R Programming

Data Analysis

Data Visualization (DataViz)

Data Science

Spreadsheet

Pivot Table

IBM Cognos Analytics

Dashboard

Select (Sql)

Statistical Analysis
Acerca de este certificado profesional
Qué aprenderás
Utilize Excel spreadsheets to perform a variety of data analysis tasks like data wrangling, using pivot tables, data mining, & creating charts

Complete the data analysis process, including data preparation, statistical analysis, predictive modeling, using R, R Studio, and Jupyter

Create relational databases and tables, query data, sort, filter and aggregate result sets using SQL and R from JupyterLab

Communicate your data findings using various data visualization techniques including, charts, plots & interactive dashboards with Cognos and R Shiny
¿Qué es un certificado profesional?
Desarrolla las habilidades necesarias para completar el trabajo
Ya sea que desees comenzar una nueva carrera o cambiar tu carrera actual, los certificados profesionales de Coursera te ayudan a prepararte para el puesto. Aprende a tu propio ritmo, en el momento y el lugar que te resulten más cómodos. Inscríbete hoy mismo y descubre una nueva carrera con una prueba gratuita de 7 días. Puedes pausar tus clases o finalizar la suscripción en cualquier momento.
Proyectos prácticos
Aplica tus habilidades en proyectos prácticos y desarrolla una cartera que demuestre tu preparación para los trabajos a los posibles empleadores. Deberás terminar los proyectos correctamente para obtener tu certificado.
Obtén una credencial profesional
Cuando completas todos los cursos del programa, obtienes un certificado que puedes compartir con tu red profesional, así como acceso a los recursos de apoyo profesional que te ayudarán a comenzar tu nueva carrera. Muchos certificados profesionales tienen socios interesados en contratar personal que reconocen la credencial del certificado profesional, y otros pueden ayudarte en tu preparación para el examen de un certificado. Puedes ver más información en las páginas del certificado profesional particular en donde aplica. Obtén crédito para tu título de grado
Después de completar este certificado, puedes obtener créditos universitarios cuando seas admitido en Bachelor of Applied Arts and Sciences de University of North Texas.
Preguntas Frecuentes
¿Cuál es la política de reembolsos?

¿Puedo inscribirme en un solo curso?

¿Este curso es 100 % en línea? ¿Necesito asistir a alguna clase en persona?

How long does it take to complete the Professional Certificate?

What background knowledge is necessary?

Do I need to take the courses in a specific order?

What will I be able to do upon completing the Professional Certificate?

How is this Professional Certificate different from the IBM Data Analyst Professional Certificate?

Can I get college credit for taking the IBM Data Analytics with Excel and R Professional Certificate?

How do you share your proof of completion with the educational institutions for transferring credit?

Where can I find more information on ACE credit recommendations?
¿Tienes más preguntas? Visita el Centro de Ayuda al Estudiante.