Visualize Business Data with Tableau
Create powerful business intelligence reports
Sobre este Programa Especializado
In 2020 the world will generate 50 times the amount of data as in 2011. And 75 times the number of information sources (IDC, 2011). Being able to use this data provides huge opportunities and to turn these opportunities into reality, people need to use data to solve problems. This Specialization, in collaboration with Tableau, is intended for newcomers to data visualization with no prior experience using Tableau. We leverage Tableau's library of resources to demonstrate best practices for data visualization and data storytelling. You will view examples from real world business cases and journalistic examples from leading media companies. By the end of this specialization, you will be able to generate powerful reports and dashboards that will help people make decisions and take action based on their business data. You will use Tableau to create high-impact visualizations of common data analyses to help you see and understand your data. You will apply predicative analytics to improve business decision making. The Specialization culminates in a Capstone Project in which you will use sample data to create visualizations, dashboards, and data models to prepare a presentation to the executive leadership of a fictional company.
Creada por:

Socios de la industria: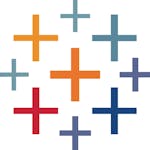 5 courses
Sigue el orden sugerido o elige el tuyo.
Proyectos
Diseñado para ayudarte a practicar y aplicar las habilidades que aprendiste.
Certificados
Resalta tus nuevas habilidades en tu currículum o LinkedIn.
Beginner Specialization.

No prior experience required.
CURSO 1

Fundamentals of Visualization with Tableau

Sesión actual: Mar 20 — Apr 24.

Dedicación

4 semanas de estudio, 3-5 horas/semana

Subtítulos

English

Acerca del Curso

In this first course of the specialization, you will discover just what data visualization is, and how we can use it to better see and understand data. Using Tableau, we'll examine the fundamental concepts of data visualization and explore the Tableau interface, identifying and applying the various tools Tableau has to offer. By the end of the course you will be able to prepare and import data into Tableau and explain the relationship between data analytics and data visualization. This course is designed for the learner who has never used Tableau before, or who may need a refresher or want to explore Tableau in more depth. No prior technical or analytical background is required. The course will guide you through the steps necessary to create your first visualization story from the beginning based on data context, setting the stage for you to advance to the next course in the Specialization.

CURSO 2

Essential Design Principles for Tableau

Sesión actual: Mar 20 — Apr 24.

Dedicación

4 weeks of study, 5-7 hours/week

Subtítulos

English

Acerca del Curso

En este curso, usted analizará y aplicará principios de diseño esenciales en sus visualizaciones con Tableau. Este curso asume que usted entiende las herramientas de Tableau y que tiene algún conocimiento de los conceptos fundamentales de visualización de datos. Definirá y examinará las similitudes y diferencias entre el análisis exploratorio y el análisis explicativo y comenzará a hacer las preguntas correctas sobre lo que se necesita en una visualización. Podrá también determinar cómo los datos y el diseño trabajan juntos, incluyendo cómo escoger una visualización apropiada para sus datos, y la diferencia entre vistas efectivas y no efectivas. Usted aplicará las mejores prácticas de principios visuales efectivos a sus visualizaciones de datos y será capaz de ilustrar ejemplos de uso estratégico de contrastes para resaltar los elementos importantes. Podrá evaluar atributos llamativos y porqué son importantes en las visualizaciones. Examinará la importancia de utilizar la cantidad "correcta" de color en el lugar adecuado, y podrá aplicar principios de diseño para ordenar sus visualizaciones de datos.

CURSO 3

Visual Analytics with Tableau

Sesión actual: Mar 20 — Apr 24.

Dedicación

4 weeks of study, 5-7 hours/week

Subtítulos

English

Acerca del Curso

In this third course of the specialization, we'll drill deeper into the tools Tableau offers in the areas of charting, dates, table calculations and mapping. We'll explore the best choices for charts, based on the type of data you are using. We'll look at specific types of charts including scatter plots, Gantt charts, histograms, bullet charts and several others, and we'll address charting guidelines. We'll define discrete and continuous dates, and examine when to use each one to explain your data. You'll learn how to create custom and quick table calculations and how to create parameters. We'll also introduce mapping and explore how Tableau can use different types of geographic data, how to connect to multiple data sources and how to create custom maps.

CURSO 4

Creating Dashboards and Storytelling with Tableau

Sesión actual: Mar 20 — Apr 24.

Dedicación

4 weeks of study, 5-7 hours/week

Subtítulos

English

Acerca del Curso

Leveraging the visualizations you created in the previous course, Visual Analytics with Tableau, you will create dashboards that help you identify the story within your data, and you will discover how to use Storypoints to create a powerful story to leave a lasting impression with your audience. You will balance the goals of your stakeholders with the needs of your end-users, and be able to structure and organize your story for maximum impact. Throughout the course you will apply more advanced functions within Tableau, such as hierarchies, actions and parameters to guide user interactions. For your final project, you will create a compelling narrative to be delivered in a meeting, as a static report, or in an interactive display online.

CURSO 5

Data Visualization with Tableau Project

Dedicación

6 weeks of study, 3-8 hours/week, the week will vary.

Subtítulos

English

Sobre el Proyecto Final

In this project-based course, you will follow your own interests to create a portfolio worthy single-frame viz or multi-frame data story that will be shared on Tableau Public. You will use all the skills taught in this Specialization to complete this project step-by-step, with guidance from your instructors along the way. You will first create a project proposal to identify your goals for the project, including the question you wish to answer or explore with data. You will then find data that will provide the information you are seeking. You will then import that data into Tableau and prepare it for analysis. Next you will create a dashboard that will allow you to explore the data in depth and identify meaningful insights. You will then give structure to your data story by writing the story arc in narrative form. Finally, you will consult your design checklist to craft the final viz or data story in Tableau. This is your opportunity to show the world what you're capable of - so think big, and have confidence in your skills!
Creadores
Govind Acharya

Principal Analyst

Hunter Whitney

Sr. Consultant, Author, Instructor

Suk S. Brar, M.B.A.

Lead Business Consultant